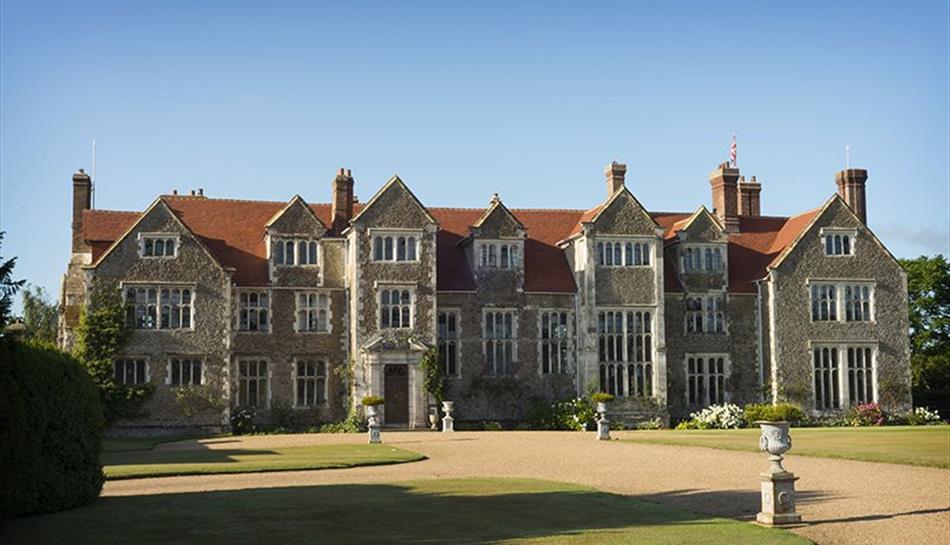 About
Loseley Park is set in rolling countryside just south of Guildford. A drive through fields and traditional farm buildings opens out to a view of Loseley House and the magnificent Cedar of Lebanon standing beside it.
The House is a stunning example of Elizabethan architecture. It was built in 1562 by Sir William More out of stone mostly brought from the ruins of the Cistercian Waverley Abbey near Farnham, now over 860 years old.
Inside Loseley House, the Great Hall is particularly awe-inspiring with imposing panelling from Henry VIII's Nonsuch Palace and many fine works of art, paintings and furniture from the 16th Century.
The Drawing Room with its gilded ceiling decorated for a visit from James I has another unique feature in its chimneypiece, which was carved out of one solid piece of chalk. Such intricate work, to a Holbein design, would have demanded great skill from a wood carver, but in chalk it is a fantastic achievement.
The Walled Garden to the East of the House has been carefully restored over the last 14 years and is now one of the Loseley's most popular features. It is compared favourably to gardens of national renown and contains a series of 'rooms' each with a different character, including an award-winning rose garden, colourful fruit and flower garden, a white garden, a herb garden and an extensive organic vegetable garden. There is also a richly coloured vine walk and a restful moat with abundant wildlife. A wildflower meadow is another recent addition.
The sweeping lawns in front of Loseley House extend across to the Front Park and an avenue of chestnut trees leads down to the lake.
Tucked away in the grounds and bridleways are several quaint cottages, farm buildings and bothys which bring further fascinating history and interest to the Estate.
The following are a few examples of the TV and film productions that have been filmed at Loseley Park:
"Lyre Bird; Belgravia; The Crown; The Favourite; The Man Who Knew Infinity; Midsomer Murders; Emma; Foyle's War; Miss Marple; Sense and Sensibility; Neverland; Blackadder; Time Team; Jane Eyre; Blair; Elizabeth the Virgin Queen; Royal Gardens; Hound of the Baskervilles."
Map & Directions
Road Directions
Loseley Park is South of Guildford and 30 miles South West of London.
Loseley Park is situated on the B3000 New Pond Road and the main entrance is in Stakescorner Road, signposted 'Loseley House'. Please be aware the Sandy Lane route has a sharp hairpin bend not suitable for coaches. If using SATNAV, please enter "Stakescorner Road GU3 1HS" otherwise you will be directed to the wrong part of Loseley Estate.
Public Transport Directions
Loseley Park is South of Guildford and 30 miles South West of London.
By rail Our nearest main station is at Guildford around three miles away and a taxi from there will take you direct to Loseley Park. Alternatively the bus station is a short walk and the bus will take you to the end of the Loseley drive – it's then a pleasant walk of a little over a mile to Loseley House.
By bus From Guildford Bus Station – numbers 42, 70, 71 and 72
Grid reference SU 97457 47329
Awards
Regional and Miscellaneous -

Visit Surrey Member
Opening Times
Open
(1 Jan 2023 - 31 Dec 2023)