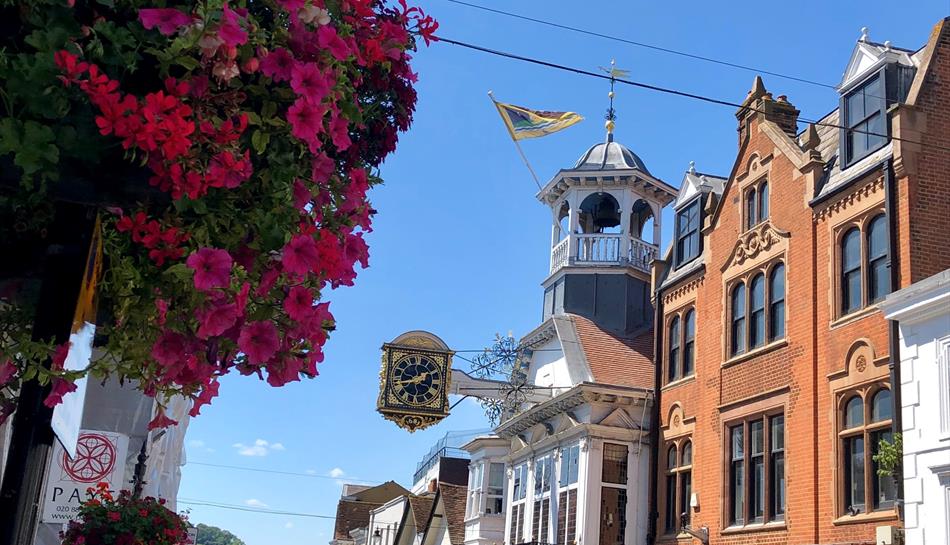 About
On February 6th the Queen became the first British monarch in history to celebrate a Platinum Jubilee.
To celebrate this momentous occasion, national celebrations to mark 70 years of the Queen's reign will take place over the long weekend of Thursday 2 to Sunday 5 June. Guildford's beautiful historic High Street will be ablaze with colour as bunting will hung across the High Street. Look out for the shop window displays - the brilliant Business Improvement District, Experience Guildford will be coordinating a Jubilee shop window competition. Many exciting things will be happening in Guildford to mark the celebration – watch this space.
EVENTS
Here is what we know so far.
During the month of May our knowledgeable Guildford Town Guides will be leading special Guildford Jubilee Walks. More details to be found on the Town Guides website.
Thursday 2nd June
Guildford joins the rest of the United Kingdom in lighting one of many beacons, a long tradition to celebrate Royal Jubilees. More details to follow
Saturday 4th June
Celebrate Guildford in Bloom and the Jubilee at 'Picnic in the Castle Grounds'. Bring a picnic and enjoy music and entertainment with Guildford Fringe Festival. This free event takes place in the Bandstand area of Guildford Castle Grounds between 12 noon and 4pm.
Sunday 5th June
Why not get together with your neighbours and organise your own street party as part of the Big Jubilee lunch? Guildford Borough has waived the fee for applications to close your road to cars. The Big Jubilee lunch can be big or small, street party, picnic, tea and cake or a garden barbeque. For tips and ideas on hosting your own Big Lunch event visit the Eden Project's Big Jubilee Lunch website.
Please check back, as events will be added to this page in the coming months.
Please upload your Jubilee event to the Visit Surrey online diary. Do share your events over social media using the hashtag #VisitGuildford and we will share as much positivity as possible! You'll find us at @GuildfordTIC on Facebook and @visitguildford on Instagram.
PLATINUM JUBILEE COMMEMORATIONS
Guildford is proud that the Queen has made several visits to Guildford Borough during her reign and is delighted to mark the occasion by entering Guildford into the Platinum Jubilee Civic Honours Competition to gain city status. The #BackOurBid campaign saw pledges of support from groups and individuals including politicians, the University of Surrey, Surrey County Council, the Business Improvement District, residents, local businesses, local dignitaries, and faith groups. You can view our full application on the Guildford Borough website.
Local children from Holy Trinity Pewley Down School helped the Mayor of Guildford plant a tree as part of the Queen's Green Canopy which has been marked on the QGC Map. You can get involved and plant your own tree to commemorate Her Majesty's Platinum Jubilee.
Platinum Jubilee memorabilia will be available from the Guildford Tourist Information Centre. So why not pop in, meet the knowledgeable team, and purchase your commemorative mug, magnet or union jack bunting (stock will be available before the big weekend).
Map & Directions
Opening Times
Season
(2 June 2022 - 5 June 2022)