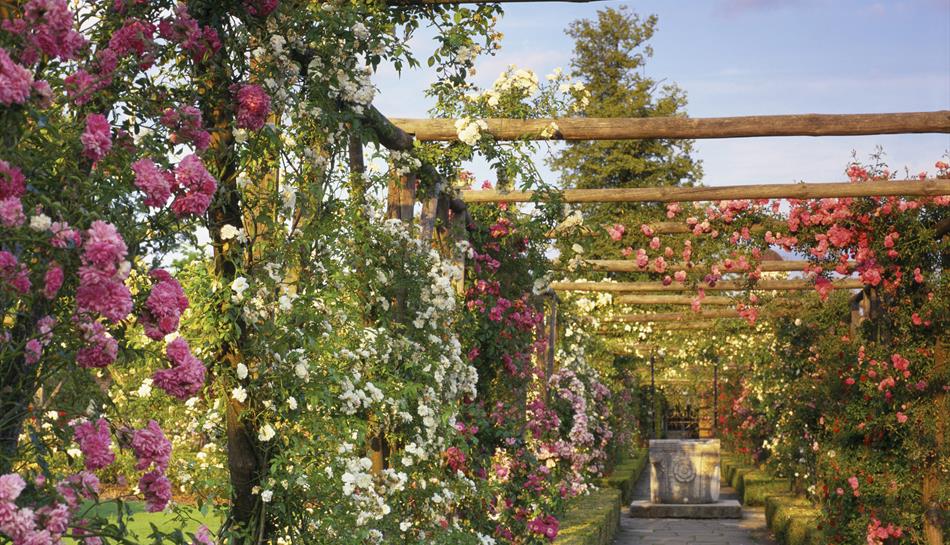 About
Roses hold a special place in the history of Polesden Lacey. The walled garden holds 35 varieties of Hybrid Tea, Floribunda and Hybrid Musk. While over 100 white Rambling Rector roses climb all over the pergola.
Our annual Rose Festival celebrates this beautiful flower, with floral displays throughout the house, café and gift shop. There will also be an installation of beautifully conceived metal roses on the West Lawn, created by the talented team at the Camelia Botnar Foundation. These roses will be for sale, so if you're quick you can reserve one for when the festival ends. All proceeds will go towards the work carried out by the foundation in helping disadvantaged young people learn a skilled trade.
Join one of our garden tours or just take a quiet stroll in the gardens and find out some interesting facts along the way. You may also like to visit the pot pourri bar in the water tower before you leave so that you can have a fragrant reminder of your visit.
If you have time, you may like to visit the café to sample our very own delicious Rose Festival cake, with a refreshing pot of tea.
Guide Prices
Normal admission applies
Map & Directions
Opening Times
Season
(11 June 2022 - 22 July 2022)