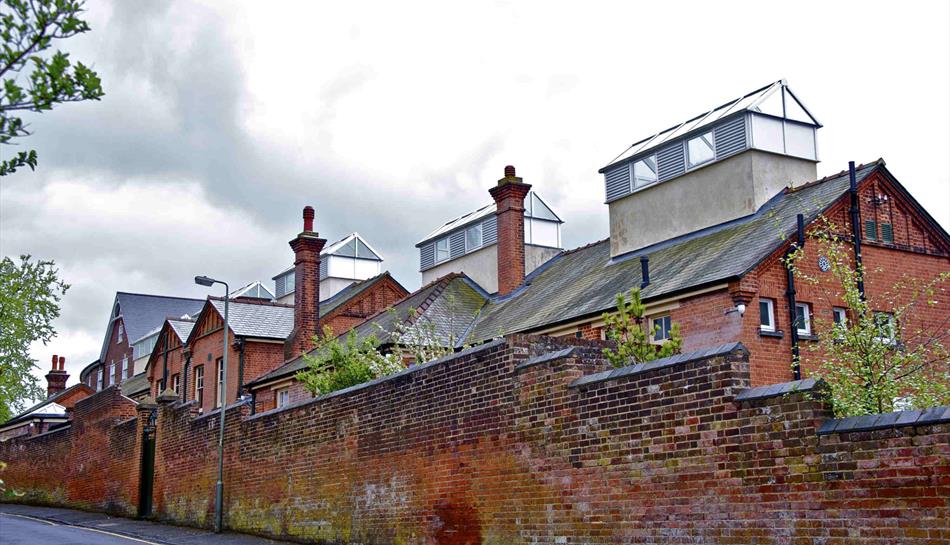 About
The Spike is privately owned by the Charlotteville Jubilee Trust and opens for visitors to the Heritage Centre on Tuesdays and Saturdays from 10:00AM. We try to get the last tour underway no later than 15:00 and usually close at 16:00.
We also have special days when we can offer something with a difference, our Christmas Day tour with minced pies and mulled wine always has a few surprises for those visiting – booking is essential. If you are a group larger than 10, you might like to consider a private tour on a day and at a time to suite you? A birthday party treat with a difference maybe? The winter time evening tours are particularly good!
The Guildford Spike tells a grim story about how the poor were treated in this country. For instance, during the Poor Law Union years (1834 – 1929), those fit enough could keep themselves out of the workhouse proper as they could earn a little here and there through often back breaking hard work, or through trickery or a little begging. The Spike was built at the time of the New Poor Laws, the Vagrancy Act of 1824 will see you punished if caught 'sleeping rough', you'll need to find somewhere to doss down for the night and so, the Casual Ward beckons, you're expected to pay, not a lot, but, if you can't it'll be a task of hard labour for you in the morning.
Come to the Guildford Poor Law Union Vagrants and Casuals ward aka the Spike and be amazed at how the poor were once treated!
During December and January please telephone to check we are open before coming to visit and remember – the Spike can be a very cold place in the winter months, dress warm!
Guide Prices
Under 5s FOC
Students, Seniors (60+) and under 18s £5
Everyone else £6
Map & Directions
Road Directions
GU1 3JH - The Spike is located on a section of Warren Road that is one way making sure you follow the GPS route rather than try a short cut!
Warren Road is a turning off Harvey Road close to its junction with the Epsom Road. When on Warren Road the Spike can be found approximately 400M on the right hand side.
We have a small carpark and there as usually spaces available.
Public Transport Directions
20 minute (uphill) walk from Guildford mainline station or on 8 minutes from Guildford London Road. There is an occasional bus service route 23 (Austen Road) or 36, 37, 478. 479 (Epsom Road and then walk)
Opening Times
Open
(1 Feb 2023 - 28 Nov 2023)
*
* Tuesdays & Saturdays
OPEN at 10:00 AM, CLOSE at 16:00 (last tour 15:00)
Dates and times marked with a '*' are provisional and may be subject to change